Reconnect with your family, friends and the great outdoors during a scenic Cheakamus Splash rafting trip with Canadian Outback Rafting. With fun splashy rapids and some of British Columbia's most breathtaking scenery, everyone in your family will have a great time and make memories you'll cherish together forever.
"Amazing family experience yesterday on the Cheakamus River with Canadian Outback Rafting! I was nervous taking my 5 and 7 year old out river rafting but my mind was quickly at ease once I saw their smiles and saw the river wasn't as wild as I'd envisioned. Staff were great and real pros. The experience was fun for all. I can't wait to bring my kids back and make this a new family tradition. I highly recommend!" ~ Wendy D
Activity Level: Beginners. Perfect for young families.
Experience Level: No prior rafting experience is required.
Check-in: Start and end at our rafting resort at 12825 Squamish Valley Road. Transportation to our base from Whistler is available. Ask us for details.
What's Included:

Instruction, training, and leadership from expert rafting guides.
Rafting gear, wetsuits (optional on hot days), booties, life jackets, and helmets.
Transportation from our rafting resort in the Squamish Valley to and from the river.

Adventure Duration: Approximately 90 minutes of rafting, plus some time getting ready at our base and busing to and from the river. We'll be back at our base approx. 3-3.5 hours after you first arrive.
Restrictions: Must be 5 years or older and weigh minimum 50 lbs.
Book your own boat
During the Covid-19 we have the option to book your own boat and only raft with those in your existing bubble group. Perfect for families looking to get out on the water, booking your own boat secures 2-6 seats for your bubble on a private raft. We have created special pricing to make this more accessible to our valued guests. You can book your boat here, and get your summer adventure started!
Individual bookings of a minimum of 2 guests or more are available. Guests who do not reserve a "Book a Boat" will be paired with other guests or additional staff in the raft.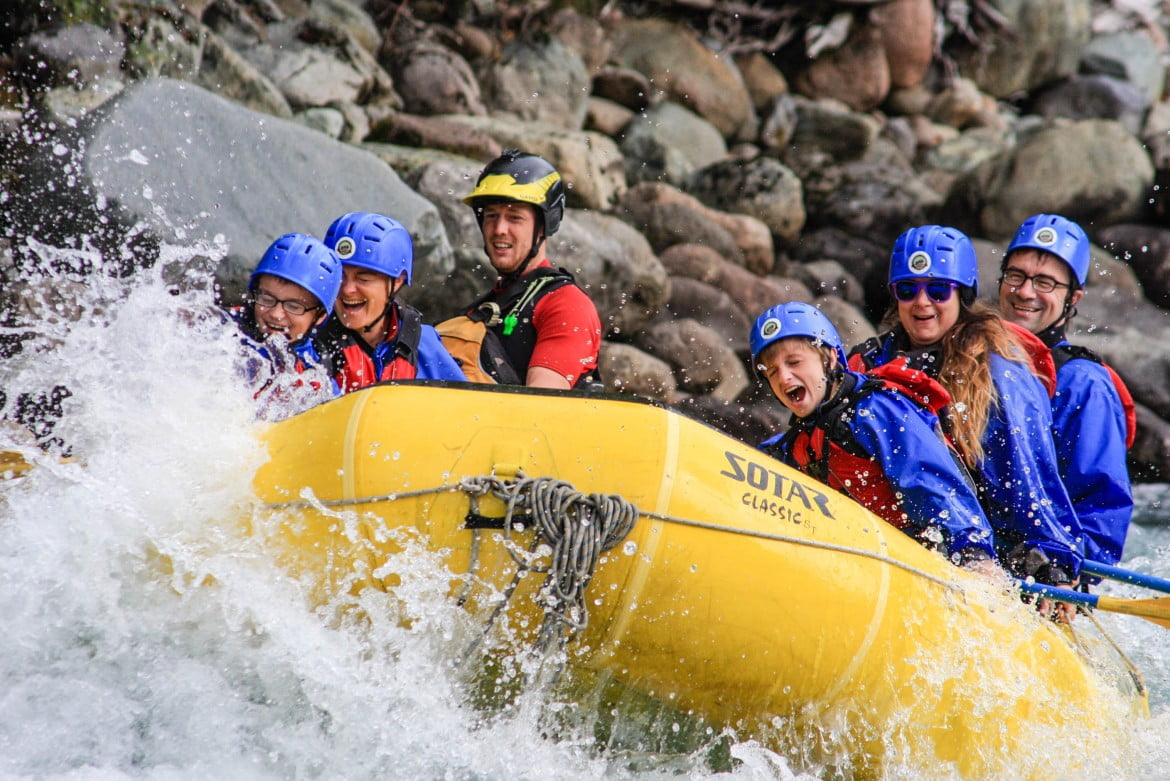 Rediscover your sense of adventure!
The Family-Friendly Cheakamus Splash rafting trip is a half-day fun float trip that features small splashy rapids, outstanding scenery and lots of laughs. It's an ideal outdoor activity for families, children, seniors, and anyone looking for a gentle and fun scenic rafting adventure.
As you raft down the glacier-fed Cheakamus River between old growth forests, you'll experience the excitement of gentle rapids and see a variety of birds, wildlife, waterfalls, and the towering peaks of the Coast Mountains in British Columbia. At the same time you'll learn about the intriguing Squamish First Nations history, a key part of the history of the area.
Of course anytime kids get around water, you know there will be a water fight! Perfect the art of splashing others (you never know when the Splash Monster will rise out of the river!), and get a chance to cool off with a quick dip in the pure, glacier-fed, jade-tinted water.
This summer get out on the river … the Cheakamus Splash is a ton of fun for the whole family!
"We took our 5 year old son on the family float trip down the Cheakamus Splash which was fantastic. The guides were knowledgeable, engaging and fun. It was a great day on the river and I highly recommend to anyone wanting a great kid friendly adventure in beautiful Squamish!" ~ campingC
Your time together on the river is an excellent opportunity to reconnect with your family, show your kids a fun time, and enjoy the incredible beauty British Columbia has to offer in the summertime.
The family-friendly rafting trip starts and finishes at our rafting resort in the Squamish Valley, a gorgeous drive midway between Vancouver and Whistler (Round Trip Transportation from Whistler is available, as us for details and options).
For our Cheakamus Splash & Sea-to-Sky Gondola Combo tour from Vancouver click here. (Currently Unavailable)
When your river journey ends, we'll take you on a short bus ride to our breathtaking rafting resort in the Squamish Valley. You'll be able to change back into your own clothes and check out the photos and GoPro Videos shot on the trip. Relax while you enjoy the stunning glacial views, sit by the fire, or challenge your fellow paddlers to a volleyball game and experience true Canadian Wilderness.
After we say goodbye, make your day even more special by adding in a visit to other world-class attractions in Squamish like the Sea To Sky Gondola, Shannon Falls, Alice Lake, the Britannia Mine Museum, and the West Coast Railway Heritage Park. Squamish really is an amazing place and is now a "must-do" for anyone vacationing in the area!
"Did the Cheakamus Splash this past weekend with 3 small kids and was blown away! Our guide was very professional and kept us laughing the whole time. We all enjoyed a few exciting rapids, a nice swim and breathtaking scenery. It's an awesome family adventure."~ expatmom2015
May 17th – September 26, 2021
Daily Departures:

Monday to Friday 9:30am (+3:00pm July 12 -August 22)
Saturday 9:30am (+3:00pm May 29 – September 26)
Sunday 11:30am (+3:00pm May 29 – September 26)
April 17 – September 26, 2021
Daily Departures

Monday to Friday 9:30am (+3:00pm July 12 -August 22)
Saturday 9:30am (+3:00pm May 29 – September 26)
Sunday 11:30am (+3:00pm May 29 – September 26)
2-6 People
Adults or Youth
824.99 +tax
7 People
(Subject to availabilty)
$872.44
8 People
(Subject to availability)
$919.89
April 17 – September 26, 2021
Daily Departures:
Monday to Friday 9:30am (+3:00pm July 12 -August 22)
Saturday 9:30am (+3:00pm May 29 – September 26)
Sunday 11:30am (+3:00pm May 29 – September 26)
Adults (17+) Please Call:
1-866-565-8735
Youth (5-16) Please Call:
1-866-565-8735
We think our rafting adventures are truly unique. However if you are comparing us with other rafting tour operators and find a comparable rafting trip at a better price, we will beat the best price you find. Just give us a call!
Take action! Give yourself a well-deserved gift of adventure.
Share your memories! Post your pics & vids online.
Take home all the incredible action shots and GoPro video footage from your rafting trip. It's the perfect way to share (brag) to all your friends on social media.
USB stick full of action shots of you conquering the river for just $55 plus taxes.
GoPro video camera rental and hi-def footage of your rafting adventure for just $55 plus taxes.
Bundle and Save! Get both the USB stick full of your pics and your GoPro hi-def video footage for just $90 plus taxes.
For the ultimate experience, get a Pro Media Package including the trip photos, as well as a fully edited hi-def video of your rafting adventure for just $150 plus tax.
BONUS: Purchase any of the above and get a $30 rafting coupon for you and each of your friends to use the next time you come out rafting with us!
Capture the moment to share with your friends and family for years to come!